If you're a fan of German chocolate cake, then you'll want to make these German Chocolate No-Bake Cookies or Brownie Nuggets as they are sometimes called.
Please note that there are Affiliate Links in the content of Louisiana Woman Blog, and I will earn a commission if you purchase through those links. As an Amazon Associate, I earn from qualifying purchases. I have used these products that are highlighted below, and recommend them for your convenience. Thank you!
You're probably familiar with the peanut butter, chocolate, and oatmeal version of these cookies. They are famous for their deliciousness and ease of cooking quickly on the stove instead of in the oven. My Mama used to make them over and over again. We couldn't get enough of them and still can't today.
These classic Brownie Nuggets (that's what we call them) I just described were introduced to us by my sister Eleanor. She met them first in my Aunt Lou's kitchen. Aunt T-Lou lived up the road from us, and she always served the most scrumptious treats like these Croquesignoles Or French Donuts. We knew whatever Aunt Lou was cooking it had to be good because she had 5 hungry children to appease.
The Classic No-Bake Cookies Tweaked
These no-bake cookies featured today are a little different from the ones listed above.
I have swapped out all of the ingredients except for the cocoa and sugar. For the peanut butter, I substitute almond butter, and instead of oatmeal, I am using coconut and pecans. I have also decided to make this a vegan dish by using water for milk and coconut oil in the place of butter.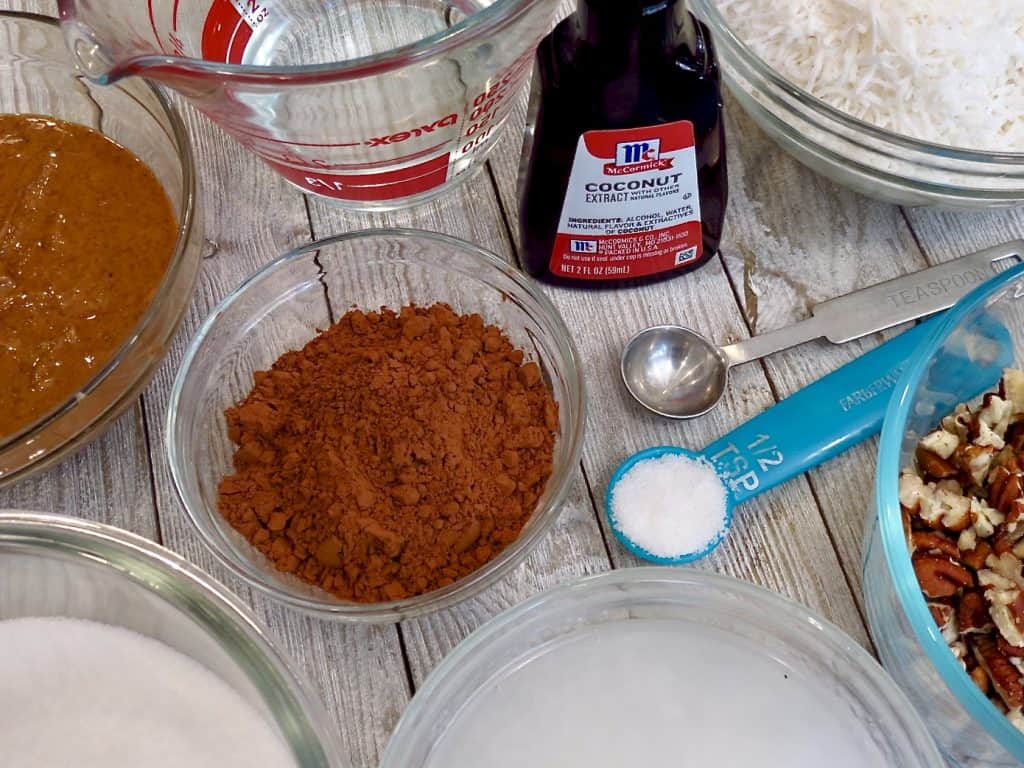 It was effortless to do and surprising to see how much they really do taste like German Chocolate Cake.
Successful No-Bakes Every Time
You will have success with no-bakes if you follow the instructions correctly every time. I used to make a flop of the recipe because I thought it needed more than one minute of boiling.
Finally, Eleanor showed me my error, and they now hold together every time I spoon them onto a sheet of wax paper, as long as I continue to follow the instructions, of course.
… and they will melt in your mouth every time, too.
Print
Recipe
German Chocolate No-Bake Cookies
These No-Bakes melt in your mouth and have the delicious taste of German Chocolate Cake. They are easy to make in just a few minutes using almond butter, coconut, and pecans.
½ cup water
¼ cup cocoa powder
½ cup coconut oil
1 ½ cup sugar
½ cup almond butter
1 ½ cup coconut flakes (no sugar added)
½ cup pecans, chopped
½ teaspoon coconut extract
½ teaspoon sea salt
Instructions
In a medium saucepan mix water and cocoa powder together on the stove.
Stir in coconut oil and sugar.
Turn heat on high and bring to a boil.
Boil for 1 minute after chocolate sauce comes to a full boil.
Take the pot off of the stove after it has boiled for 1 minute and stir in the almond butter, coconut, pecans, coconut extract, and salt.
Stir for a few minutes more until the no-bakes thicken.
Drop by a level tablespoon onto wax paper and let harden.
Pull from the wax paper after they have hardened and store in an airtight container.
Notes
Make sure the chocolate comes to a full boil, that is the middle of the mixture is bubbling also, before setting a timer for 1 minute.
Then after it boils a full minute, remove the pot from the heat source and add the last of the ingredients.
Author:

Prep Time:

20 minutes

Cook Time:

1 minute

Category:

Sweets

Method:

Boiling

Cuisine:

American
Now, doesn't that sound easy?
No-bake cookies are a favorite at our house today. It's not unusual for us to get up from the dinner table and get in the kitchen to quickly make some for dessert. They don't stay around for very long either. Now we have a different version to make.
Do you have another flavor of no-bake cookies you enjoy? I'd love to know about it. Just leave a comment below.
You can follow me on Instagram, Pinterest, Flipboard, or on my FaceBook page Louisiana Woman Blog. I often post because I have so much to share with you. See you there!
"The secret of getting ahead is getting started."

Mark Twain