Grandma George's Croquesignoles (French Donuts)
I didn't know my great-grandma, Grandma George, who was called after her husband's first name. That's how the married women used to be referred to in south Louisiana, by their husband's first names. My daddy's mama was "Madame Bill" and my mama "Madame Bill, Jr." or "Madame T-Bill" as the cow-hands at Outside Island used to call her.
Grandma George was of short stature, a mother of 12 and a very meticulous cook. She died when I was a baby so I only know her from pictures and what's been told to me by those who knew and loved her. However, I have sampled her French donuts called croquesignoles (pronounced "cro-see-alls") made from her recipe on more than one occasion. Her version of the fried pastry does not contain yeast like Louisiana's popular beignet (pronounced "ben-YAY") so I am guessing that is why they were called donuts.
Please note that there are Affiliate Links in the content of Louisiana Woman Blog, and I will earn a commission if you purchase through those links. As an Amazon Associate, I earn from qualifying purchases. I have used these products that are highlighted below, and recommend them for your convenience. Thank you!
Donut Making
We lived in the country on a dead-end gravel road, not far from Grandpa and Grandma George's home place. One of their 12 children, Uncle Red, his wife, Aunt Lou and their 5 children were our next-door down the road neighbors. Those 5 cousins were as close to us as siblings raised under the same roof. It wasn't unusual for us to spend our days helping Daddy work cows, riding bikes up and down that dusty road, fishing, playing in the yard until dark, or even getting to enjoy an occasional swim in the canal. Sharing meals together as well as spending the night at each other's houses were also common. We even rode the same school bus. When we were home we played hard until dark and Daddy would announce, "It's snake-time, time to come inside!"
One fond memory I have is when our mamas would get together and make those donuts. I recently started asking around for the recipe and finally, Aunt Lou's daughter, Liz, sent me this: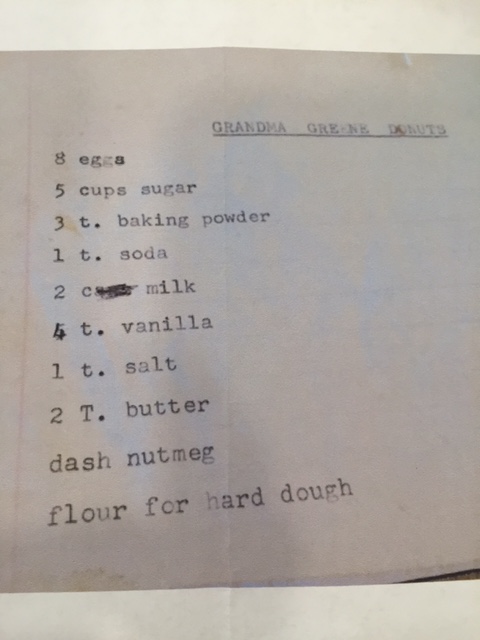 Hmm, flour for hard dough? Well, this makes a mess of donuts and that's just how I remember seeing them. A whole lot of fried rectangles (with 2 slits in them) doused with powdered sugar and piled into a multitude of Tupperware containers covering the kitchen table. While Mama rolled and cut the dough Aunt Lou fried, turned and drained the doughnuts. As we cousins played outside we'd run in and out of the house, circling the table, grabbing and gobbling up fresh donuts.
"Da Donut Touch"
Since the recipe had no instructions my experimenting began and it was not pretty. I'm a messy cook. With the flour flying while the dough was being made and dropped into spattering hot oil, a lot of extra clean-up was needful. I had trouble keeping the oil at an even temperature, too. The first batch did not taste good right so I threw it out. It was much to my husband's amazement that I could spend so much time on something and so easily call it rubbish! It was also much to his disappointment there were no donuts to eat.
So after I cooled off a bit I adjusted the recipe and decided to try again. It was better, but still messy and not quite, and if it's not quite it's not right! I ended up calling Aunt Lou and after going through the steps and a few questions she simply stated, "Well, you just don't have 'da touch'. MaMa Greene had 'da touch'!" I quickly agreed and wondered how I could possess such a thing and she replied, "I guess she gave it to me!" We laughed the I decided that because they each had large families "da touch" had to have come from lots of practice.
So I practiced and practiced, but only after I went to the store and purchased a simple electric fryer with a temperature setting on it. The whole process was much easier and not so messy. (I wonder how they ever got along with frying those donuts in a big pot of hog lard over a hot stove, GOOD LORD!) Finally, I developed my own recipe with reduced amounts of ingredients. I don't have to feed as many people as they did. Here's my version of Grandma George Greene's original donut recipe:
Print
Recipe
Croquesingnoles Or French Donuts
These Cajun French donuts are my Great-Grandma George's recipe called Cronquesingnoles  (pronounced, "cro-see-alls"). With a taste of nutmeg this sweet and crunchy pastry couples well with a good cup of hot coffee.
1 ½ c sugar
2 eggs
1 tablespoon butter, melted
3 ½ cups all-purpose flour
1 teaspoon baking powder
¼ teaspoon baking soda
¼ teaspoon salt
½ teaspoon nutmeg
½ cup milk
2 teaspoon vanilla flavoring
Instructions
Blend sugar, eggs, and butter together in a large bowl.
In a separate medium-size bowl, whisk together flour, baking powder, baking soda, salt, and nutmeg.
Measure milk in a measuring cup and add vanilla.
Alternately mix the flour mixture and milk mixture into egg mixture until well blended.
Cover the bowl with plastic wrap and refrigerate for about an hour.
When ready to fry heat the oil in a pot or fryer to 375 degrees.
Take donut mixture out of the refrigerator and ½ of the dough onto a floured counter surface.
Knead about 12 times then roll out onto counter being sure counter and roller have plenty of flour on them or dough will stick and not lift off of surface easily after being cut.
Roll dough into a rectangle shape about ¼" thick. Cut dough with a pizza cutter about 2"x 3", then cut 2 slits with a butter knife into them.
Drop 3 or 4 donuts (depending on how large your pot or fryer is) into hot oil using a long-handled slotted spoon.
 After about 1 minute and 20 seconds turn donuts over and cook for another minute and 20 seconds.
Remove donuts to drain on paper towels. Sprinkle with powdered sugar and enjoy!
Notes
Each stove, pot, and fryer is different so you may have to make your own adjustment of oil temperature and time of frying.
This donuts freeze well and can be warmed in the microwave to enjoy with a cup of hot coffee at any time. 
Recipe Card powered by
Many empty calories here, but it's fun learning and sharing how the Cajun people fed their families back then by taking simple ingredients they had, combining them and thrilling their loved ones with these special treats. No Kryspy Kreme down the road for them.
I enjoyed these as a child and I also enjoyed learning how to make them and getting to taste my Grandma George's donuts again.
"The price of greatness is responsibility."  Winston Churchill