Cooking authentic Cajun food from South Louisiana should be a simple and convenient experience, just like this Pork Jambalaya recipe suggests. If you can chop vegetables and stir in a pot, you can make this tantalizing rib-sticking meal of tender pork, smoked sausage, and perfectly seasoned rice.
Not a pork fan? Not a problem. Substitute the pork for chicken or beef or a combination of meats. You'll have the same delicious results!
I'm an Amazon Associate. Please note that the Louisiana Woman Blog contains Affiliate Links with Amazon, and I will earn a commission if you purchase through those links. Thank you! 
Jump to:
What is Jambalaya and Why You Should Eat It?
No one can argue that the foods of Louisiana are as unique as its language, landscape, and culture. Jambalaya is a favored dish mostly popularized as a New Orleans Creole jambalaya. But it's also a true Cajun dish steeped in tradition from my Southern Louisiana homeland.
It came from the days of the Boucherie. When the community came together to butcher their hogs, making the work lighter and more entertaining. This article History of the Cajun People and Their Cuisine explains this event well.
The outdoor cooking tradition is still carried on today at Louisiana festivals and in communities around Acadiana.
For more recipes to go with this jambalaya, check out 20 Cajun Thanksgiving Recipes For Your Holiday Menu.  From appetizers to desserts, they may steer you away from your traditional Thanksgiving meal, but they won't disappoint!
The Pork Jambalaya Ingredients
Jambalaya is a one-pot dish. The original rice dish was cooked over an open fire in a large pot at the Boucheries. They used leftover pieces of pork from the processing, vegetables of the Cajun holy trinity, a flavorful stock, and rice. And the ingredients were usually stirred with a boat paddle. A clean one, I assume!
Our recipe today is a bit updated, cooked in a heavy pot on the stove and stirred with a spoon using these ingredients:
Olive oil - heated to brown the meat.
Boston butt pork roast - cut away from the bone, trim the fat, and cut into bite-size pieces.
Smoked sausage - the smoked flavor of sliced smoked pork, beef, or chicken sausage will do.
Water - filtered or tap for simmering meat and cooking the rice with the meat.
Onion - white or yellow onion.
Green bell pepper - a fresh flavorful part of the Cajun trinity vegetables.
Celery - the third ingredient in the Cajun vegetable blend.
White rice - raw, long-grain rice holds up best without breaking apart.
Beef broth - for a more meaty, brothy flavor.
Salt - kosher or regular table salt.
Granulated garlic - or garlic powder.
Cayenne pepper - it has more firey heat than black pepper.
Cajun seasoning - your favorite brand or this Pink Cajun Seasoning Blend.
Green onions - chopped fresh tails for garnishing.
Hot sauce - served beside the finished rice dish.
How To Make Jambalaya
It is my conclusion that the secret to a good pork jambalaya is browning the meat and sausage to bring out their rich flavors. The browner, the better!
Another helpful piece of advice is to ensure the meat is simmered in water until it's nice and tender.
The next most flavorful thing is to smother the browned meat with the Cajun holy trinity of onions, celery, and bell pepper. It adds something special to their bite.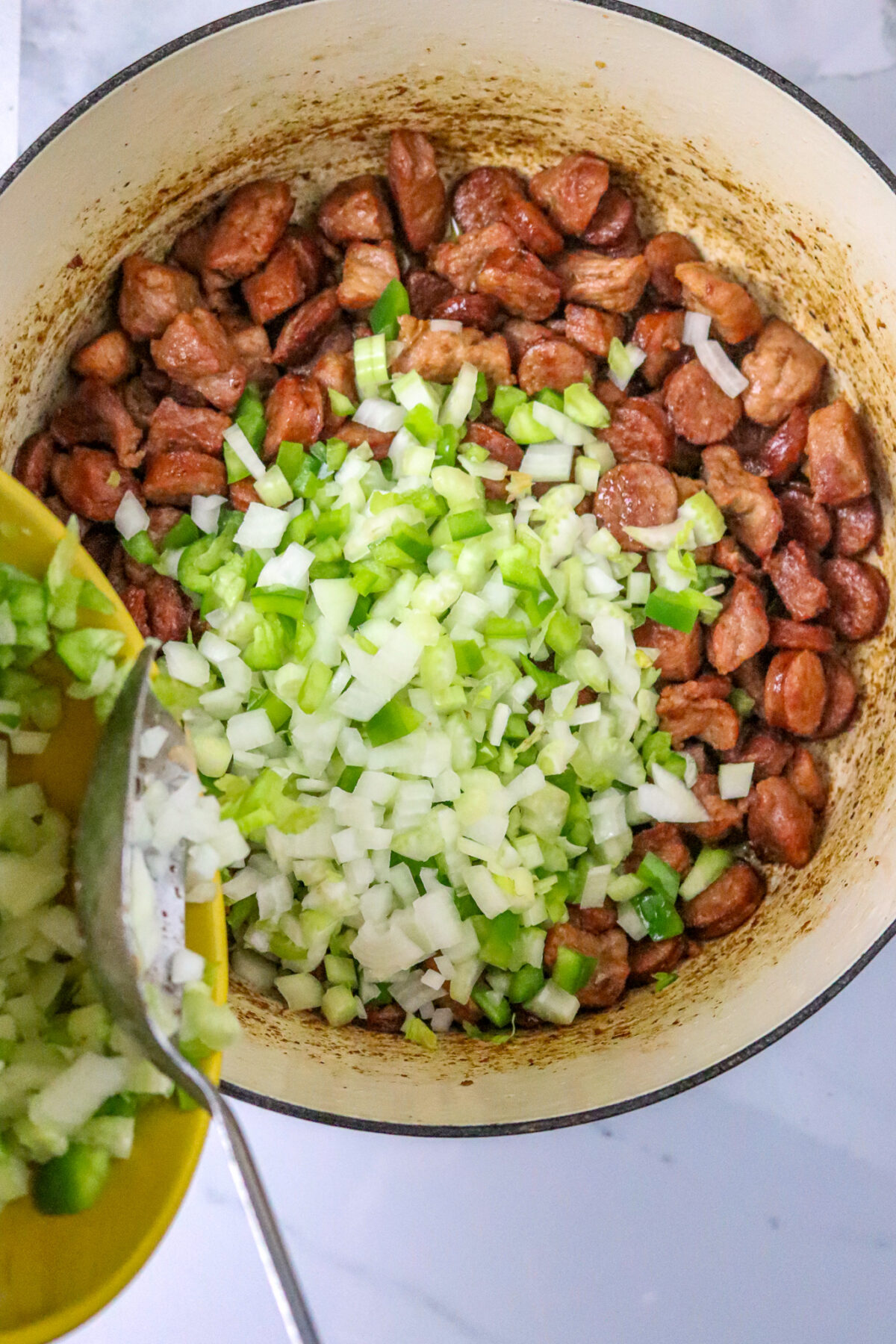 A good idea is to make a batch of this Creole Seasoning Blend Recipe to use in place of the trinity and garlic. Make the blend ahead of time and store it in the refrigerator or freezer when needed. This jambalaya recipe only needs about 3 ½ cups of it.
Can you smell it right about now? It's heavenly!
The Cajun Staple In Pork Jambalaya
Now it's time for the ingredient that holds it all together and fills up the cracks in any Cajun dish. Rice!
Yummy! Rice to a Cajun is the same as potatoes, pasta, beans, and matza are to other cultural appetites. It complements its companions well and fills the belly nicely. I could eat it every day: morning, noon, or night. And I agree with what my grandfather used to tell us often, "Eat rice, help the farmers!"
Now that we've introduced the pork jambalaya's crowning glory, it's time for a good dose of beef broth to moisten and flavor the dish as it cooks. Then add enough Cajun seasonings to accent the meaty, smoky flavors.
Let it simmer on low heat until the rice is cooked and not scorched on the bottom of the pot. That can be tricky, so check the jambalaya, often adjusting the heat under the pot and adding a small amount of water, if needed, a little at a time. You don't want a soupy dish; if you use a thick pot and your fire is low enough, you shouldn't have to add any more liquid.
Do this without stirring the ingredients. The idea is to let it sit and cook slowly.
And here you have a perfect pot of Pork Jambalaya With Sausage, A Traditional Cajun Dish!
What Do You Serve With The Jambalaya?
Top this pork jambalaya dish with sliced green onions and bring it to the table with a loaf of French bread and a delicious salad like this Blueberry-Mandarin Ranch Salad for a complete meal.
Go ahead and help yourself!
Substitutions
Bacon grease is more flavorful than olive oil, but don't let it get too hot, and start smoking before adding the meat.
Use 3.5 cups of this Creole Seasoning Blend Recipe instead of the onions, bell peppers, and celery.
Substitute chicken stock or beef stock for beef broth.
A fresh garlic pod substitutes ½ teaspoon of garlic granules or garlic powder.
Red pepper flakes may be added or used instead of the cayenne pepper.
More Classic Cajun recipes from Louisiana Woman!
Print
Recipe
Pork Jambalaya, A Traditional Cajun Dish
This Cajun dish is made of tender chunks of pork, smoked sausage, white rice, and flavored with spicy Cajun seasonings.
Total Time:

1 hour 30 minutes

Yield:

12

servings

1

x
2 tablespoons

canola oil

2

pounds

Boston butt pork roast, cut up in bite-size cubes

1

pound

smoked sausage, sliced in ½" rounds (beef, pork, or chicken)

2

cups

water
1

½

cups

chopped onion, 1 large onion

1

cup

chopped green bell pepper, 1 medium bell pepper

1

cup

chopped celery, 2 tall celery ribs

2

cups

raw white rice

2

cups

beef broth

2

cups

water

2 teaspoons

salt

1 teaspoon

granulated garlic

¼ teaspoon

cayenne pepper

1 teaspoon

Cajun seasoning, like Slap Ya Mama

⅓

cup

sliced green onion tails, about 4
Instructions
Heat oil in a large dutch oven or heavy pot over medium to medium-high heat.
Add the pork and sausage to the oil and brown the meat for 20 minutes, stirring often.
Pour 2 cups of water into the pot and let simmer for 20 minutes, uncovered and stirring often until the water is gone and the meat is tender and browned some more.
Stir into the pot the onions, bell pepper, and celery with the meat and cook for 10 minutes until vegetables have softened, stirring often.
Add the rice, broth, water, and seasonings, stirring to combine, and bring them to a boil. 
Lower the heat, cover the pot, and slowly simmer for 30 minutes or until the rice is cooked. 
Sprinkle with green onions and serve.
Notes
Check often to make sure rice isn't scorching at the bottom of the pot; you may need to reduce the heat and add more water, a little at a time; you don't want a soupy jambalaya.
Make this Pink Cajun Seasoning Blend for this and other recipes.
Pork can be substituted with beef, chicken, and seafood such as shrimp or crawfish.
Author:

Prep Time:

10 minutes

Cook Time:

1 hour 20 minutes
Keywords: jambalaya, pork jambalaya, cajun rice dish
Recipe Card powered by
Be sure to sign up for my emails to keep in touch. If you have any questions or comments, leave them in the reply box below.
You know I love hearing from you!
Have a rice day, I mean a nice day!
"Don't quit, and don't give up. The reward is just around the corner. And in times of doubt or times of joy, listen for that still, small voice. Know that God has been there from the beginning—and he will be there until . . . The End."

Joanna Gaines