A dark roux thickens this Goose Gumbo recipe to spicy, flavorful perfection. Making gumbo with wild goose or duck has been a tradition Cajuns have passed down through the years. This easy recipe represents their simple lifestyle of living off the land from field to table.
I'm an Amazon Associate. Please note that there are Affiliate Links with Amazon in the content of the Louisiana Woman Blog, and I will earn a commission if you purchase through those links. Thank you!
A Goose Hunt
I distinctly recall, as a child, when my Daddy would sit on the steps that led down to our utility room and pluck bird feathers after a hunt. In the early mornings, he'd head out to hide in the duck blind behind our house. There he'd call in ducks and geese, then wait patiently to harvest them for Mama to pot roast or cook in a gumbo.
Recently my oldest son called and said he and his brother hunted specklebelly geese, specs, that morning in the Delta. He briefly told me how quickly they reached their limit and asked if I would prepare them in a gumbo for our church's wild game supper.
I thought of how happy my Daddy would be to hear his grandsons were bird hunting and putting food on the table the way he used to. He was the type that would stop his truck on the side of the road, pick up a large turtle from the ditch to take to his Mama who'd make hime a turtle stew. Ditch to table!
Well, that was a long time ago, but the tradition continues in a somewhat different manner. Of course, I told my son I would be happy to cook their goose any way they wanted.
Preparing The Wild Goose For Gumbo
There are two ways to clean geese. You can pluck the feathers and leave the skin for roasting. This is suitable for browning in the oven or searing in a pan on the stove for a rich gravy.
The other option is skinning the bird. This is perfect for making the best goose gumbo, especially since the skin and fat can make a difference in the taste. It's easier to remove the skin and fat, so why not?
And, of course, you want to try and retrieve any of those tiny BBs or steel shots from the meat before cooking. You don't want anyone to bite down and damage a tooth. A clever idea is to use a metal detector to locate and retrieve steel shots from the bird's flesh. Dr. Frank at Duckology is so clever!
You can cut the goose in pieces, the same way you cut up a chicken. The bones are hard so use a cutting board and a very sharp, large knife for better leverage. Take your time, and don't cut yourself. Some pieces don't have much meat on them but use them anyway. Cooking releases the delicious flavor locked up in the bones, then you can remove the meat, discarding the bones before serving.
Season the bird after it's cut to absorb the flavor while you make the roux.
First, You Make A Roux
Not all gumbos begin this way. For instance, Shrimp Okra Gumbo gets its flavor and thickening power from smothered okra. No roux is needed.
Here's A Roux Lesson with easy instructions. It's best to take your time so you don't burn the flour and oil mixture. Slowly cook it until it's the color of dark fudge. A darker roux is best in Goose Gumbo, like in this Seafood Gumbo recipe. I find it tames the wild-caught taste. In Chicken Gumbo, a lighter roux is appropriate to give a milder flavor.
The next step is to cook the Cajun trinity of chopped onions, celery, and green bell peppers in the roux until the vegetables soften. The garlic should be added last because garlic burns quickly if cooked too long.
Also, a handful of chopped parsley gives this wild goose recipe extra flavor. It makes a difference.
Now, it's time to pour in the water and simmer for about 30 minutes. This gives the ingredients time to meld together before adding the meat.
Add The Goose
After stirring the wild goose in the gumbo, let it cook on a low boil for about an hour and a half or until the meat is tender. I say, the slower, the longer, the better.
When the meat is tender, add the sausage. You can use smoked or fresh, but don't slice the fresh sausage until it's fully cooked. I like the flavor of smoked sausage. It adds another depth of taste that pairs well with wild goose.
Any smoked sausage will do. I've been enjoying this Conecuh Hickory Smoked Sausage. But first, boil it in water for a few minutes to take that strong smoked taste away. Too much smokiness can easily overpower the gumbo.
Simmer some more and before serving, skim the top of the gumbo with a large spoon to remove any fats and oils. Serve this delicious goose gumbo with a scoop of rice and a side of potato salad or baked sweet potatoes. That's how most Cajuns eat their gumbo!
Note: You can substitiute wild duck for the spec geese in this gumbo.
More Recipes For Gumbo From Louisiana Woman
Print
Recipe
Goose Gumbo
This classic Cajun goose gumbo is thick and flavorful made with a dark roux and wild game then topped with a scoop of white rice and a side of potato salad to make a complete meal.
Total Time:

29 minute

Yield:

20

servings

1

x
2

wild specklebelly geese, cleaned, skinned, fat removed and cut up (

3

-

4

pounds)

2.5 teaspoons

salt
.5 teaspoon granulated garlic
.25 teaspoon cayenne pepper

1

cup

vegetable or canola oil

1

cup

flour

1

½ large onions, chopped (about

2.5 cups

)

4

stalks of celery, chopped (about

2 cups

)

1

medium bell pepper, chopped (about .

75 cups

)
.25 cup parsley, chopped

4

cloves garlic, pressed

16

cups

water

2

pounds

smoked sausage, sliced into .25-inch pieces.

1

-

2

teaspoons salt
.25-.5 teaspoons cayenne pepper
Instructions
Season geese with 2.5 teaspoons salt, .5 teaspoon granulated garlic, and .25 teaspoon cayenne pepper; set aside.
Heat oil in a large, heavy soup or gumbo pot (about a 10-12 quart pot) on medium to medium-low heat.
Add flour and stir until the flour and oil mixture turns into a dark roux, the color of dark chocolate fudge.
Add chopped onion, celery, and bell pepper to the roux and cook until they are softened about 10 minutes; adjust heat if necessary.
Stir in parsley and garlic.
Pour water into the roux mixture and stir until combined, then simmer for 30 minutes.
Add geese and bring gumbo to a boil, then cook for 1.5 to 2 hours on low to medium-low heat, a low boil simmer, or until meat is tender.
Place a medium pot filled halfway with water to boil on the stove, then add sliced smoked sausage and cook for a few minutes; drain sausage in a strainer and add sausage to gumbo. 
Season with salt and cayenne pepper to taste.
Simmer another 30 minutes and serve, and adjust seasoning if necessary.
Notes
You can substitute wild duck for the geese in this recipe.

If using fresh sausage, add to gumbo unsliced; slice links in .25-inches after the sausage is cooked.

Skim the top of the gumbo with a large spoon to remove any fats and oils before serving.

Serve with a scoop of rice and a side of potato salad or baked sweet potatoes. 
Author:

Prep Time:

300 minutes

Cook Time:

2.5 hours

Category:

Gumbo

Method:

simmer

Cuisine:

Cajun
Keywords: goose gumbo, gumbo, Cajun gumbo, wild game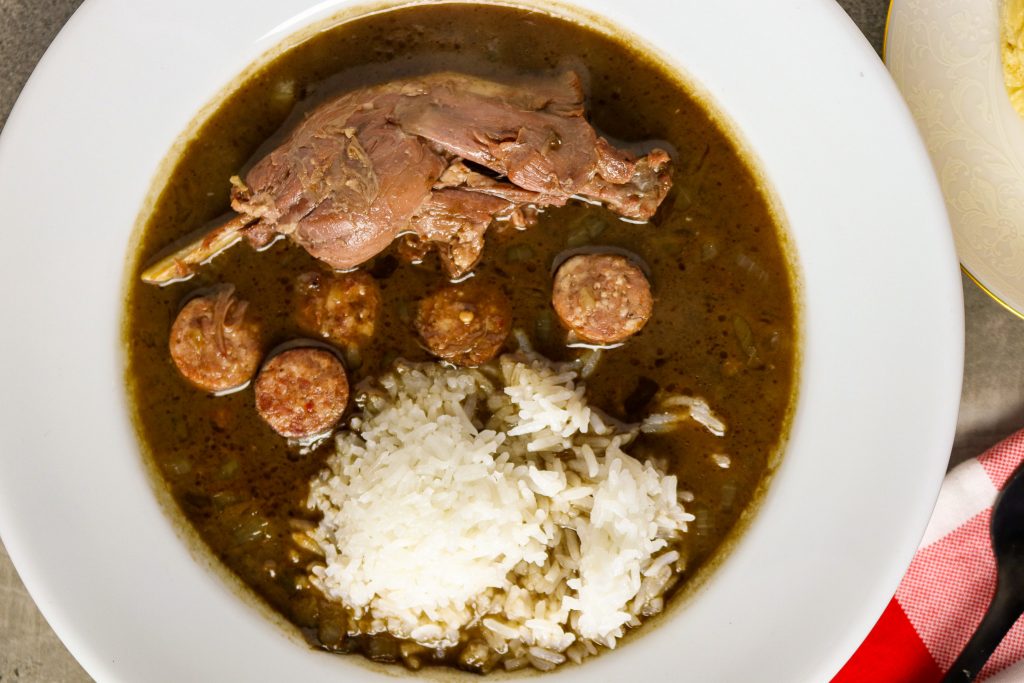 Do you spy an Arkansas Razorback in this bowl?
I shot this photo, not noticing the wild hog until I edited it. I couldn't have staged it if I had tried. Since I live in Arkansas, my sisters and I enjoy the rivalry between LSU and U of A. But there's still a place in my Louisiana heart for the tigers.
You know I love hearing from you. Be sure to sign up for my emails to keep in touch. If you have any questions or comments, leave them in the reply box below.
Have a nice day!
"Many intelligent people never move beyohd the boudaries of their self-imposed limitations."

John Maxwell