Mmm, these buttery, garlicky Twice-Baked Cheese Potatoes are not your usual bake, mash, stuff, and bake again potato recipe. Nope! These stuffed spuds are filled with simple ingredients packed with melty cheesy flavor. They are easy to assemble and can be made ahead of time to serve later for easy prep. And I'd bet you can't eat just one if I was a bettin' woman!
Please note that there are Affiliate Links in the content of Louisiana Woman Blog, and I will earn a commission if you purchase through those links. As an Amazon Associate, I earn from qualifying purchases. I have used these products that are highlighted below, and recommend them for your convenience. Thank you!
Cheese Potatoes were first introduced to our family by my mother-in-law. That's what they're called at family get-togethers around her table. Whenever we gather, we always look forward to them, especially for the holidays with their festive red and green appearance.
But you don't have to wait for Christmas to try them. They are good-eatin' any time of year. One suggestion I have is preparing them ahead of time to refrigerate or freeze until you're ready to bake and serve. You can even heat them on the grill alongside your favorite outdoor cooking foods.
It Starts With A Hot Potato
These potatoes are a cinch to make. You can begin prepping them while they're baking. First, place a stick of butter, grated cheese, and other ingredients into a large bowl to allow them to come to room temperature. After baking, cut the hot potatoes in half lengthwise. Then, let them cool enough to touch (careful not to burn yourself) and scoop out the pulp with a spoon. Next, add the insides of the potatoes to the cheese mixture. Also, leave behind a margin of potato on the skin to help hold it together.
The hot potato pulp helps the butter and cheese begin to melt and blend the ingredients together. There is no whipping with an electric mixer here. We keep it simple by using a spoon to mix then stuff that cheesy goodness into the shells.
My mother-in-law's original recipe calls for a garlic cheese roll, but those rolls are kinda' hard to find these days. So I modified her recipe by using garlic granules along with a Mexican Style Four Cheese Blend.
This blend of cheeses is my favorite for melting in a casserole or for an ooey, gooey cheesy topping on whatever is needed at the moment. You can use any good melting cheese you like.
Lastly, dress these Twice-Baked Cheese Potatoes up with a sprinkle of paprika before they're heating through and through. See how easy?
Warning; the aroma from baking these bundles that will fill your kitchen is divine!
Print
Recipe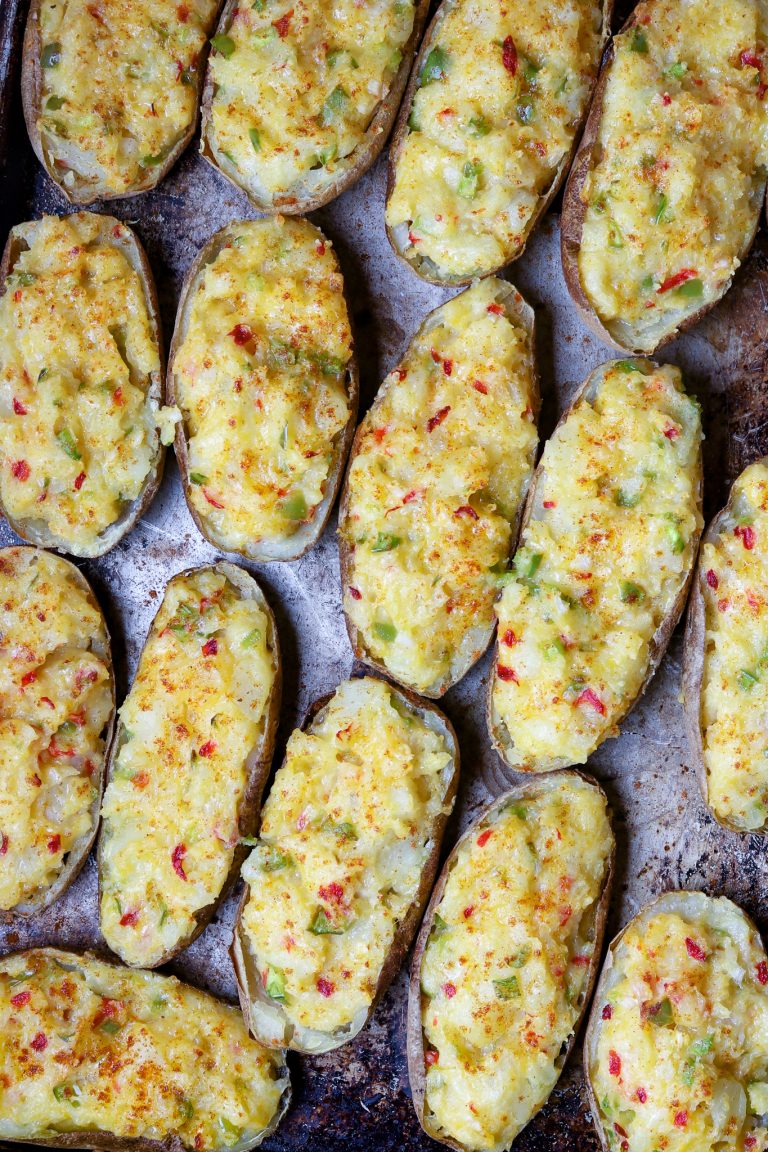 Twice-Baked Cheese Potatoes
A twice-baked potato flavored with butter and garlicky cheese that's easy to make ahead and bake later.
Total Time:

2 hours 5 minutes

Yield:

8

servings

1

x
8 large baking potatoes
1 stick (½ cup) salted butter
8 ounces Mexican Style Four Cheese Blend Shredded Cheese
½ cup green pepper, chopped
4 ounces chopped pimento, drained
¼ cup onion, minced
2 ½ teaspoon garlic granules
1 teaspoon salt
Paprika
Instructions
Preheat oven to 425 degrees.
Rinse, dry, and rub potatoes with cooking oil and place them on a baking sheet, do not wrap them in foil.
Puncture potatoes 3 times with a fork on both sides and bake for 1 hour and 15 minutes or until a fork easily pierces through.
Place the rest of the ingredients except for the paprika into a large bowl while the potatoes are baking.
Remove potatoes from oven and cut in half lengthwise.
When the potatoes are cool enough to handle, scoop the pulp out with a large spoon leaving a layer of potato on the skins to help them stay intact.
Place the potato pulp into the large bowl over the ingredients to start melting the cheese and butter and set the potato shells aside on the baking sheet.
Stir the pulp to combine with the ingredients and fill the shells with the cheese potato mixture.
Sprinkle potato halves with paprika and bake the cheese potatoes at 350 degrees until they are heated through and through for about 30 minutes.
Notes
Prepare the potatoes and refrigerate or freeze for a later date, defrost before baking.
The potato mixture can be placed into a casserole dish and baked instead of filling potato shells.
Substitute any good melting cheese for the Mexican blend.
Wrap 2 halves together with aluminum foil and place it on a hot grill to heat before serving.
Author:

Prep Time:

20 minutes

Cook Time:

1 hour 45 minutes

Category:

Side Dish / vegetables

Method:

Baking

Cuisine:

American
Keywords: Twice-Baked Cheese Potatoes
What To Serve With Twice-Baked Cheese Potatoes?
This dish goes well with just about any kind of meat like Instant Pot Rolled Round Steak, Roasted Turkey, Seasoned With A Brine, or even Best Sizzle Burger Recipe and Marinated Hot Dogs.
And if you're not in the mood for stuffing the shells, you can place the potato mixture into a casserole dish, top with paprika, and bake until it's hot and bubbly.
Let me know how you decide to serve these Twice-Baked Cheese Potatoes. You know I love hearing from you!
"Listen well and you will be pronounced a 'brilliant' conversationalist."