In this recipe for Marinated Hot Dogs, we'll turn up the volume of flavor on an already popular food. The marinade is simply a few well-known sauces and some Cajun seasoning. I'll also show you a helpful way to warm up those buns. All this and the right toppings add taste and a little gourmet to the classic hot dog!
Please note that there are Affiliate Links in the content of Louisiana Woman Blog, and I will earn a commission if you purchase through those links. As an Amazon Associate, I earn from qualifying purchases. I have used these products that are highlighted below, and recommend them for your convenience. Thank you!
Marinating The Hot Dogs
Lots of things get marinated to enhance their flavor, so why not the all-American hot dog wieners?
The marinade we're making for them has a little sweetness from some Soy Sauce and lots more flavor from Worcestershire and Cajun seasoning. Now here is where you don't skimp on flavor. Always use high-quality soy and Worcestershire sauces. Trust me, I know! (Saying this while looking through the top of my eyeglasses.)
And as far as the Cajun seasoning goes, use your favorite blend, like this House Seasoning Blend. Make a batch and sprinkle it wherever you use salt and pepper. I like the balance of Slap Ya Mama's taste and also this recipe for my Pink Cajun Seasoning Blend made with pink salt.
For a simpler seasoning with salt, garlic, and cayenne pepper, I like this House Seasoning Blend. Make a batch and sprinkle it wherever you use salt and pepper.
By putting a half gallon Ziplok bag in a bowl before pouring in the marinade ingredients you get less mess from spills. The half gallon bags are the perfect size for marinating these dogs. You can order them by clicking the above link.
After placing the wieners in the bag, zip it up and marinate them in the refrigerator as long as time permits. The longer the soak the better. I recommend 8 hours for optimum taste, but I've cooked them after much less time.
Warming The Buns
About an hour before you plan on serving these delicious frankfurters, wrap up the buns in some parchment paper or foil if you prefer. I choose parchment paper for cooking over aluminum foil. There may be a chance of aluminum from the foil leaching into the food during cooking.
The wrapped bun also makes serving easy, especially when hanging out by the grill or fire.
Next, place them in a crockpot, turn it on low, and make sure the lid is tightly closed. Timing is important. You don't want to keep the crockpot on too long as it tends to dry out the buns. One hour is the max for my pot.
Cooking The Hot Dogs
Now, cook them either on a hot grill, on skewers over a fire, or inside on the stove. Eight to ten minutes for each side is all it takes unless you like the taste of a charred dog.
Print
Marinated Hot Dogs
Marinate these hot dogs with Cajun seasoning and some flavorful sauces for an extraordinary tasteful dog. Serve on a warm bun and dress them to suit your taste.
Total Time:

8 hours 20 minutes

Yield:

10

servings

1

x
1 16-ounce package weiners
¼ cup soy sauce
¼ cup Worcestershire sauce
2 tablespoons Cajun Seasoning
½ gallon Ziplock bag
Instructions
Add all of the ingredients into the ziplock bag and zip to close securely releasing extra air from inside.
Massage the marinade mixing the ingredients well onto the weiners and let them marinate in the refrigerator for about 8 hours, turning them once during the marinating time.
Cook on a hot grill for 8-10 minutes or until they are lightly browned on each side.
Serve.
Notes
I use uncured beef wieners for a healthier version.
The longer the wieners marinate, the better.
Author:

Prep Time:

8 hours

Cook Time:

20 minutes

Category:

Main Dishes

Method:

grill

Cuisine:

American
Keywords: marinated hot dogs
Dressing The Marinated Hot Dogs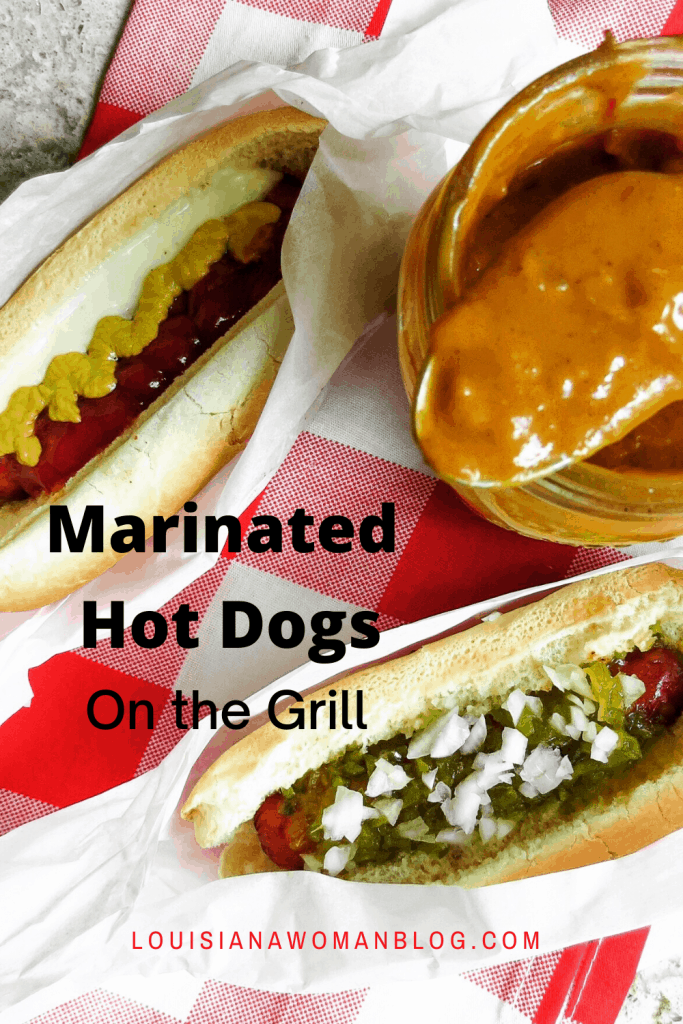 There are many options when it comes to what to put on a hot dog. My usual is mayonnaise, mustard, and ketchup. I also like it with this homemade Mustard Barbecue Sauce I posted a while back. It's much like the sauce I remember eating on grilled burgers at bazaars and rodeos when I was a kid.
Setting up a hot dog bar with all the fixings is a fun and easy way to host your family and friends. You can get creative with different ingredients while cruising the grocery store aisles. Choose toppings like fresh veggies, different condiments, jarred pickles, and fresh items from the deli like cole slaw.
I like serving these Marinated Hot Dogs with Plain Potato Salad and baked beans. For an even easier version, chips and dips with a dessert from the deli are perfectly acceptable!
I hope you have fun discovering many ways to serve tasty all-American dogs. Let me know how it goes. I love chatting with you!
"All great change in America begins at the dinner table."

Ronald Reagan