Marrying the fig with red hot cinnamon candies brings this surprisingly delicious Red Hot Fig Jam to life. Use it to top a block of cream cheese or stuff it into your morning biscuit. It's even good on freshly baked crusty cornbread. Yes, it is!
As an Amazon Associate, I earn from qualifying purchases. I have used these products that are highlighted below and recommend them for your convenience. Please note that there are Affiliate Links in the content of the Louisiana Woman Blog, and I will earn a commission if you purchase through those links. Thank you!
I love fig season and bringing you another fig recipe! I get much enjoyment eating, dehydrating, preserving, cooking, and even picking them. So much so that when someone offers me fresh ones, I always say," Yes, and I'll be glad to pick them!"
Harvesting figs takes me back to gathering them in my Mamaw Trahan's orchard. We'd pick the lower while she'd pick the higher ones, sometimes using a step ladder to accommodate her short stature. Since fig trees thrive in the Acadiana climate, the fig has always been a big part of the Cajun people's diet. The trees give a plentiful bounty, and Cajun's are so clever in their ways of preserving them for their year-long enjoyment.
This jam may take you by surprise, as it did with me, with its classic Red Hot candy ingredient. It's my Aunt Martha's unique recipe for preserving the darling fig!
Getting The Figs Ready
First, things first!
Wash the figs in a sink full of fresh cool water with 1 tablespoon of baking soda. Let them sit for just a few minutes, so they don't have a chance to soak up the liquid. Rinse and drain them well. If using frozen figs, prepare them the same way after defrosting unless they were cleaned before freezing.
Now, pour water and sugar into a large, heavy pot and bring the mixture to a rapid boil. After the sugar is melted, pour in the mashed figs and red hots, lower the heat to a medium simmer and cook for about 45 - 50 minutes or right to the time the mixture is a thick consistency when dropped from a spoonful.
DO NOT OVERCOOK! (Note from experience.) or you'll have candied jam you'll have to chisel from the jar!
Preserving the Red Hot Cinamon Fig Jam
When the jam is cooked, it's time to ladle it into sterilized jars that are still hot. Running the jars and lids through a dishwasher's sterilizing cycle is the easiest way to prepare them.
Use an oven mitt when handling the hot jars from the dishwasher for safety.
After the jars are filled, run a knife along the inside between the glass and jam in the jars to release any air bubbles and clean around the outside of the jar's mouths with a wet dishtowel.
Cap them with the warm canning lid disks and screw on the rings.
This next step is crucial and is the safest way to preserve your Red Hot Cinnamon Jam. Although it may seem intimidating, it really isn't. Processing by giving the jars a bath in boiling water takes only minutes, and it's easy to accomplish with the right tools.
If you're not familiar with this procedure, here is a post with step-by-step instructions from Bayou Woman's Whole Fig Preserves. If you've not had a chance to visit her website Bayou Woman, Life In The Louisiana Wetlands, I encourage you to do so. She's quite amazing with her adventures and recipes that remind me of home.
Print
Recipe
Red Hot Fig Jam
A tasty fig jam flavored with cinnamony red hot candies. A perfect pair!
Total Time:

1 hour 10 minutes

Yield:

14 cups

1

x
1-quart water
6 cups sugar
3 quarts fresh figs, rinsed, drained, and mashed
2 9-ounce bags red hot candies
Instructions
Bring sugar and water to a rapid boil.
Once sugar is dissolved add figs and candies, lowering heat to a medium simmer.
Cook, stirring frequently until mixture is a thick consistency when dropped from a spoonful, for about 45-50 minutes.
Do not overcook.
Pour into sterilized jars then top with clean, warm canning lids and screw on the bands to hold lids in place.
Process jars in boiling water for safe preserving.
Notes
Be sure to cook just until the red hot figs thicken; overcooking causes the jam to harden and crystalize. 
Author:

Prep Time:

20 minutes

Cook Time:

50 minutes

Category:

Jams, Jellies, and Sauces

Method:

Simmering

Cuisine:

American
Keywords: red hot fig jam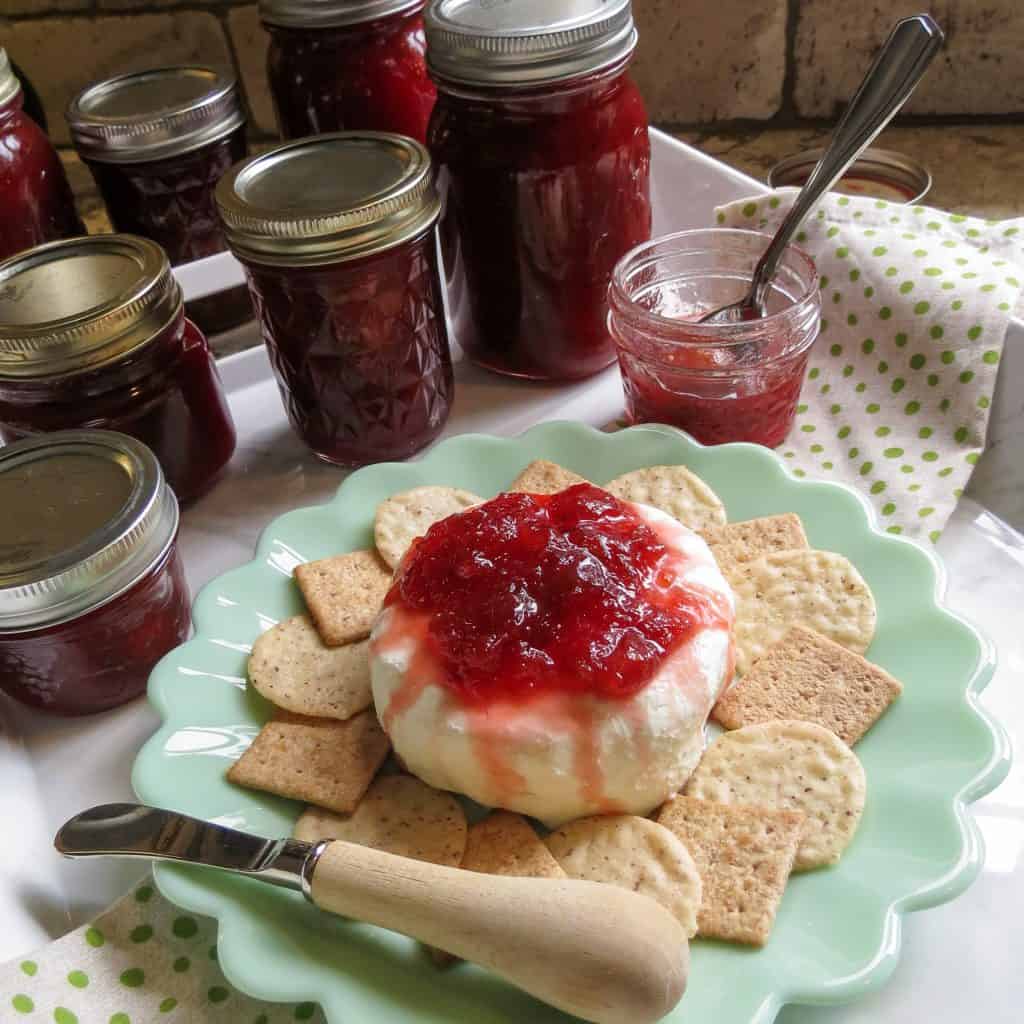 More Fig Recipes!
Here are more fig preserving and dessert recipes on the blog you may enjoy: Fig Pepper Jelly, Strawberry Fig Jam, Fig Preserves, Fig Cake, and Oatmeal Cookies With Dried Figs.
I hope you enjoyed this recipe, and if the figs aren't in the season where you live, just keep this in mind for next year. It's well worth remembering!
I love reading your comments below or on Facebook and Instagram. I also enjoy seeing you pin recipes like this one on Pinterest. It's a great place to search for ideas and information.
Bye-bye for now!
"God has His reasons, based on His infinite wisdom, which He does not always choose to reveal to us."

Spiros Zodhiates