When cutting down on sugar and carbs, this Keto strawberry jello dessert is what goes down at our house. It's creamy, nutty, full of fresh berries, and keeps well in the refrigerator sittin' pretty for when the sweet tooth urge hits.
Please note that there are Affiliate Links in the content of Louisiana Woman Blog, and I will earn a commission if you purchase through those links. As an Amazon Associate, I earn from qualifying purchases. I have used these products that are highlighted below, and recommend them for your convenience. Thank you!
Sugar-Free Treat
Do you like dessert? I do and so does my Mississippi Man, but we're sensitive to sugar. Too much of it makes his blood sugar rise, and me not feel so good. So this Keto Strawberry Dessert fills the order for something sweet.
It's also appropriate for Keto which is a diet high in fat and protein and low in carbohydrates. See Fat Bombs for more info on this diet. We aren't eating Keto right now, but if you are this recipe will be helpful. If you aren't going the Keto way I suggest eating it in moderation because of the high-fat content.
It's Berry Delicious
The first steps in making this Keto Strawberry Jello Dessert are slicing the strawberries then chopping the pecans. You can omit the nuts if you like, but we prefer leaving them in. Pecans add crunch and taste to many things. Try putting them on your salad instead of croutons for extra protein and fewer carbs.
Next, be sure you bring the water to a boil before pouring over the jello to dissolve and stir, stir, stir. After stirring, add cubed cream cheese using a mixer to incorporate it all together.
Now, it's time to whip the heavy cream. It's my favorite part! Be sure and stick the beaters and the bowl in the freezer to get them cold before adding the cream. This makes things all better! It will be creamier and easier to whip up. Then fold the cream into the jello mixture and enjoy the art.
The last things to add are the berries and the pecans. Stir them up before pouring it all into a lightly greased casserole dish.
All that's left to do is refrigerate until it chills and the gelatin sets firm, about a couple of hours.
Print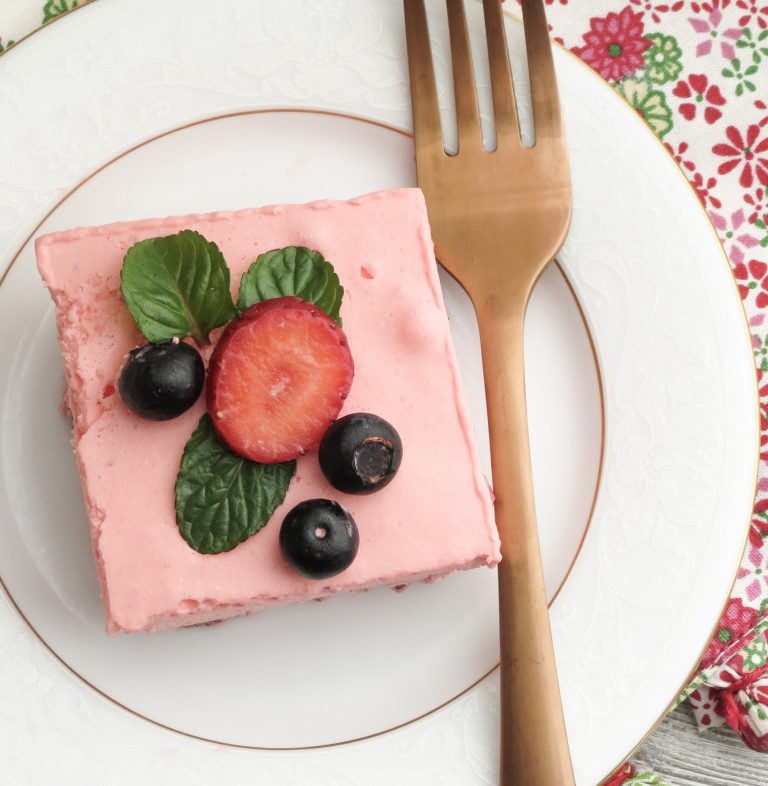 Keto Strawberry Jello Dessert
Sugar-free strawberry jello and fresh berries make this creamy Keto dessert a must-have in your refrigerator when cutting down on carbs, increasing fat, and craving something sweet. This recipe serves 9 with 9.8 grams of carbs in each serving.
Total Time:

25 minutes

Yield:

9

servings

1

x
1 0.30-ounce sugar-free strawberry jello gelatin, the small box
1 cup boiling water
4 ounces cream cheese
1 cup heavy whipping cream
½ cup fresh strawberries, sliced
½ cup fresh blueberries
½ cup pecans, chopped
Instructions
Spray a 9" X 9" shallow dish or 9" pie plate with vegetable spray.
Place jello into a large mixing bowl. 
Pour boiling water over jello and stir until dissolved. 
Cut cream cheese into cubes and add to the jello.
Use an electric mixer to stir until cream cheese is dissolved and incorporated, there may be a few specks of cream cheese left in the mixture.
Beat whipping cream until stiff.
Fold the whipped cream in until smooth. 
Spoon berries into gelatin mixture then pour the pecans in, stirring just until mixed.
Pour into container and refrigerate until firm, about 2 hours.
Slice and serve.
Notes
Spraying the pan with vegetable spray makes the dessert easy to slice and remove from the pan.
This recipe easily doubles for a 9"x13" dish.
Author:

Prep Time:

25 minutes

Category:

dessert
Keywords: keto strawberry jello dessert
And you're done! It's that easy!
Here's a great idea: Serve a sugar-free dish like this Keto Strawberry Dessert alongside the regular sweets at your next gathering for people with sugar sensitivities to enjoy. It's a thoughtful gesture that shows you're thinking of them.
Don't forget to pin pictures from my recipes to Pinterest and post photos of your dishes from these recipes to Instagram with an @louisianawomanblog and a #louisianawomanblog added to them. I'd love to hear from you on Facebook, too.
"By perseverance the snail reached the ark."

Charles Spurgeon