This southern favorite, Classic Cabbage Rolls, has Instant Pot cooking directions and helpful hints for easy preparation and tasty ingredients. It's so delicious and it comes with stove-top instructions, too!
I'm an Amazon Associate. Please note that there are Affiliate Links with Amazon in the content of the Louisiana Woman Blog, and I will earn a commission if you purchase through those links. Thank you! 
Cabbage rolls have been around for a long time. They are a favorite way southerners consume this healthy leaf. The Cabbage Soup With Andouille Sausage is also a delicious and healthful dish. Andouille sausage adds the perfect taste of southern Louisiana cuisine.
If you like fresh cabbage in a salad, this Southern Louisiana Coleslaw is a winner. It has a touch of cane syrup for sweetness and pecans for added crispness and crunch.
What's in a cabbage roll?
"Cabbage rolls? … they are like little meatloaves with rice wrapped in cabbage leaves and cooked in tomato sauce," is what I told my grandson when he asked what I was cooking for supper. It surprised me how simple that sounded.
Ingredients
For The Rolls
cabbage leaves to roll the meat with
ground meat (beef, pork, or a mixture of both)
chopped yellow or white onion
chopped green bell pepper
chopped celery
finely chopped cabbage flavors the meat, adds texture
pressed garlic permeates the meat for flavor
cooked white or brown rice, leftovers work great
breadcrumbs are for softening and binding the meat
an egg helps bind the meat also
salt for seasoning
cayenne pepper for a little spice
For The Sauce
stewed tomatoes in a food processor add more taste than canned tomatoes
tomato sauce for more tomato flavor
dark brown sugar for a little sweetness
spice it up with chili powder
salt for flavor
pepper to taste
water to thin the sauce
Tips for easy cabbage rolling
No pre-cooking the cabbage leaves before stuffing them with the meat mixture. Does this set you free? I cut out the hard center of large cabbage leaves. This makes them easier to roll and a breeze to cut through when eating.
Save the middle of the cabbage head after peeling the leaves away and use it to flavor the meat. Chop it fine and throw it into the bowl with the rest of the ingredients.
How to make cabbage rolls?
First, combine the meat with vegetables, rice, bread crumbs, egg, and seasonings. Prepare the cabbage leaves in the above tip. Divide the meat into equal sized balls. Place a ball of meat on a few cabbage leaves.
The cabbage is my favorite part and I used to feel cheated with just one leaf. Now I use two or more, especially with the smaller leaves.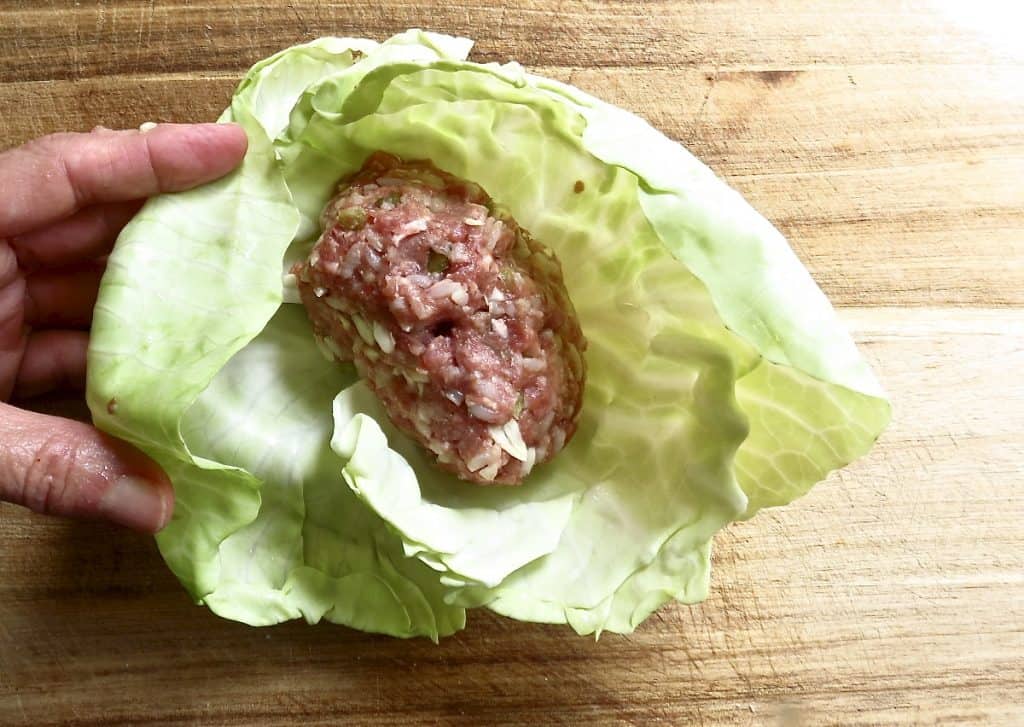 Roll the cabbage as tight as possible.
I don't use toothpicks to hold rolls together, either. Packing them close together in the pot helps with that
Place rolls on the rack in the instant pot or pressure cooker for easy and quick cooking.
For the sauce, add all of the ingredients together in a bowl. Pour the sauce over the rolls, turn the pot on, and forget about it. There's no need to babysit these babies. You can spend more time doing what's important … or what's not important.
The cabbage rolls can also be baked in the oven in an oven safe dish tightly covered with foil. Or, simmered in a pot over the stove.
More beef recipes
The recipe
Print
Recipe
Classic Cabbage Rolls
This recipe for Classic Cabbage Rolls has Instant Pot cooking directions and helpful hints for easy preparation and tasty ingredients. You'll be surprised how much more convenient these are to prepare.
Total Time:

38 minutes

Yield:

9

rolls

1

x
Cabbage Rolls
18 cabbage leaves from 1 head
1 ½ pounds ground meat, (beef, pork or a mixture of both)
¼ cup onion, chopped fine
¼ cup green pepper, chopped fine
¼ cup celery, chopped fine
½ cup cabbage, chopped fine
2 cloves garlic, pressed
1 ½ cups cooked white or brown rice
½ cup breadcrumbs
1 egg
1 ½ teaspoons salt
⅛ teaspoon cayenne pepper, or to taste
Sauce
1 15-ounce can stewed tomatoes, processed in food processor
1 8-ounce can tomato sauce
2 tablespoons dark brown sugar
1 tablespoon chili powder
1 teaspoon salt
pepper to taste
¼ cup water
Instructions
Carefully peel 18 leaves from cabbage head after removing its core.
Mix together ground meat, chopped vegetables, rice, breadcrumbs, egg, and seasonings together in a bowl.
Divide evenly into 9 balls and place onto two or more cabbage leaves.
Roll up one end over the meat, then the two sides in, then all the way up to the top, no need for toothpicks to hold rolls together.
Place rolls on the rack inside the Instant Pot.
Make the sauce by combining the ingredients into a bowl, stir and pour over the cabbage rolls.
Close the lid of the Instant Pot, seal with valve pointed to the sealed position, push the manual button, and set the pot on high pressure for 18 minutes.
After the pressure is reduced when the cabbage rolls are cooked, you can serve immediately or keep them warm until ready to eat.
Notes
Oven baking instructions are, bake in a covered oven-safe dish in a 350-degree oven for about an hour until meat is done.
For stovetop cooking method, cook in a heavy pot, covered on medium to medium-low heat for about 40 minutes or until meat is done. Check often to see if extra water is needed during cooking.
Make ahead or double the recipe to store in the freezer for future meals.
Author:

Prep Time:

20 minutes

Cook Time:

18 minutes

Category:

Main Dishes

Method:

Pressure Cooking

Cuisine:

American
Recipe Card powered by
You know I love hearing from you. Be sure to sign up for my emails to keep in touch. If you have any questions or comments, leave them in the reply box below.
Have a nice day!
" I believe in Christianity as I believe that the sun has risen: not only because I see it, but because by it I see everything else. "

C.S. Lewis