A Cajun dish of fish fillets cooked in a buttery white sauce served over a scoop of hot rice is what this Fish Court-Bouillon is all about.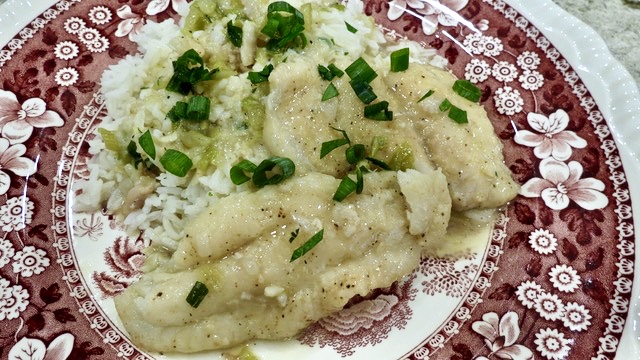 Please note that there are Affiliate Links in the content of Louisiana Woman Blog, and I will earn a commission if you purchase through those links. As an Amazon Associate, I earn from qualifying purchases. I have used these products that are highlighted below, and recommend them for your convenience. Thank you!
On one of my last visits to Kaplan, I picked up some catfish from my friends, James and Patricia LeDoux, who have a crab and fishing business. They started fishing at White Lake 3 years ago to supplement their income then they went full-time when James was laid off after 35 years of working in the oil field. They are precious people I've come to know and love while attending the same church.
White Lake Wetlands Conservation is located southwest of Vermilion Parish about seven miles south of Gueydan. The lake is the most southern body of water before the Gulf of Mexico in Louisiana. It's brackish (salt and fresh) water makes for a cleaner tasting seafood. Studies show that the seafood (crabs, fish, shrimp, and frogs) in White Lake are the best tasting and cleanest, other than Lake Pontchartrain, in the United States. These wetlands are also a duck hunter's paradise. The LeDoux's say they are very blessed with good health and the opportunity to be able to fish in such a place and James says, "The boss (Patricia) is not too bad either!"
It was during this same trip to Kaplan that my friend, Tina, helped me rediscover this recipe for Fish Court-Bouillon (pronounce "coo-bee-on"). My Pa Pa Greene had talked me through when preparing it once and to my dismay I didn't write it down. One of those things I told myself I'd do later and never did. I had looked high and low for that same recipe, but the court-bouillons I'd found either called for the fish to be layered with vegetables or to be cooked in a sauce that wasn't white. Nothing like the way Pa Pa had taught me. Then in a conversation about cooking, which isn't unusual for us, I told Tina about my recipe frustration. After I described how I made a white sauce before adding the fish she sat up straight and said, "Well, that's the way Mama taught me to make a court-bouillon!" Funny, we've been friends for years and never made that connection. So I took my delicious White Lake catfish home to Arkansas and figured out this recipe with the help of my friend Tina.
First, lightly season the fish with some "Slap Ya Mama" seasoning then melt butter in a large heavy skillet.
Add vegetables stirring often without browning them.
Add flour, seasoning, and water.
Cook on low heat for 30 minutes then add the fish and cook for 30 minutes more, covered. Garnish with green onion and serve over cooked rice.
Print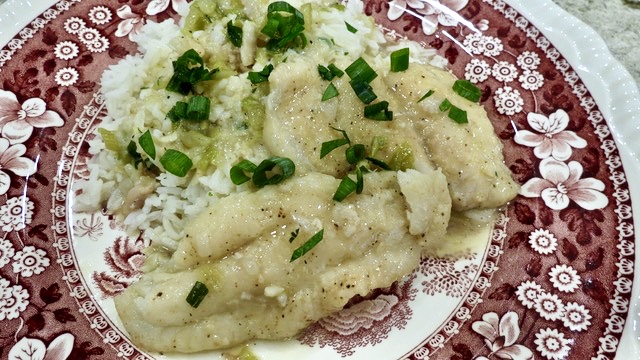 Fish Court-Bouillon
A Cajun dish of fish fillets cooked in a buttery white sauce served over a scoop of hot rice is what this Fish Court-Bouillon is all about.
Total Time:

1 hour 30 minutes

Yield:

4

1

x
2 pounds fish
4 tablespoons butter
1 cup onion, chopped
½ cup bell pepper
½ cup celery
2 cloves garlic, pressed
3 tablespoons flour
½ teaspoon or more Cajun seasoning, like Slap Ya Mama
2 cups water
Instructions
Lightly season the fish with Cajun seasoning.
Melt butter in a large, heavy skillet.
Add vegetables and cook for 15 minutes on low stirring often without browning the vegetables.
Add flour, cook 1 minute then add seasoning and 2 cups of water.
Cook covered on low heat for 30 minutes long enough for the sauce to gel and become a creamy color, not brown.
Add fish, cover and cook on low for 30 minutes.
Garnish with green onion and serve over cooked rice.
Notes
Check often while cooking and adjust heat being careful not to brown the vegetables or the sauce.
The fish will release some moisture while it cooks so add more water if necessary to get the consistency of the gravy you prefer.
Author:

Prep Time:

15 minutes

Cook Time:

1 hour 15 minutes
Nutrition
Serving Size:

8 ounces

Calories:

446

Sugar:

1.9 g

Sodium:

754 mg

Fat:

24.9 gr

Saturated Fat:

9.3 g

Trans Fat:

0

Carbohydrates:

8.7 g

Fiber:

1.1 g

Protein:

44.6 g

Cholesterol:

166.5 mg
Keywords: fish court-bouillon
This is just another way you can enjoy delicious White Lake catfish or your own favorite fish with thanks to my friends back home!
Spread love everywhere you go. Let no one ever come to you without leaving happier.

Mother Teresa