These Cajun Roasted Pecans are buttery, crispy, and SPI-CEY! It takes some extra special Louisiana flavors and only minutes to roast these nuts into delicious snackers. Make sure you have plenty of pecans on hand before you start; you'll want to make multiple batches to keep and share!
I'm an Amazon Associate. Please note that the Louisiana Woman Blog contains Affiliate Links with Amazon, and I will earn a commission if you purchase through those links. Thank you! 
Jump to:
Simple Ingredients
There's nothing better than a healthy snack when you're running out of steam in the middle of the day. These Cajun Roasted Pecans are just right for such an occasion. They are gluten-free, low-carb, full of protein, and packed with taste.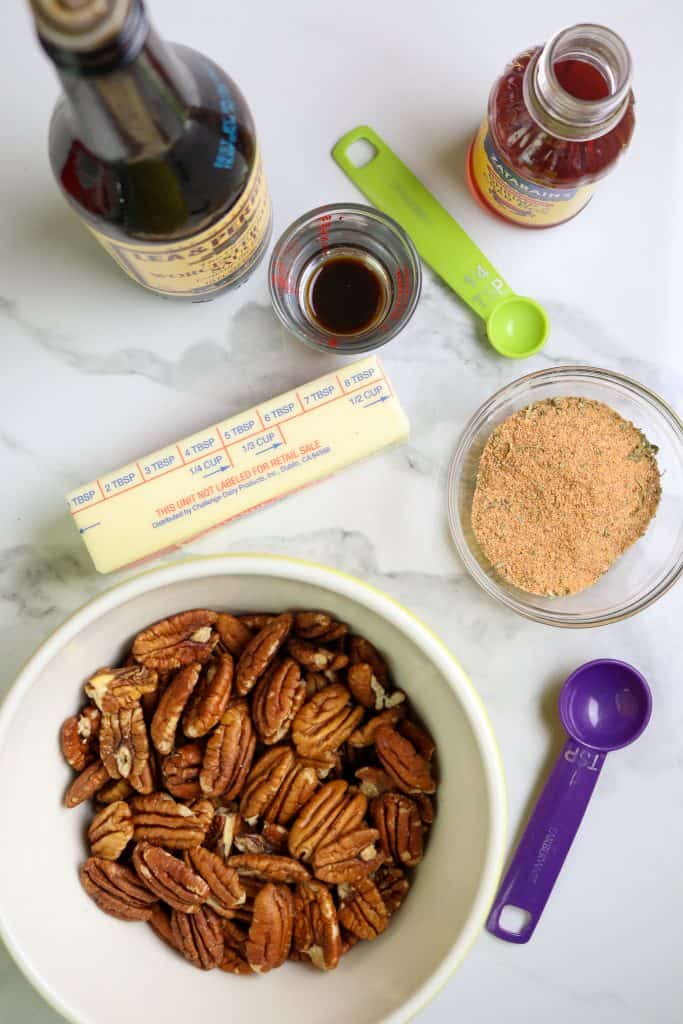 All you need are raw pecans, salted butter, some Cajun seasoning like my Pink Cajun Seasoning Blend, Worcestershire sauce, and a dose of liquid Concentrated Shrimp and Crab Boil.
Yes, that's right! Shrimp and crab boil puts these Cajun Roasted Pecans over the top! After using this liquid seasoning, you'll discover a whole new way to incorporate more of that Cajun flavor into your foods. Go ahead and get adventurous, adding this golden sauce to corn on the cob, macaroni and cheese, gumbos, stews, gravy, and whatever your heart desires. Just a little at first 'cause this bottle packs a punch!
Oh, and about my Pink Cajun Seasoning Blend. It combines Himalayan pink salt with other seasonings that add a burst of spicy Louisiana flavor to food. It's rich in taste, doesn't overpower the taste of your food, and is a cinch to make with items you probably already have on hand. Or, you can use your own favorite Cajun seasoning.
Instructions
Simple ingredients that are quick to assemble are my kind of cooking. With that said, there is no excuse to not roast these nuts. Especially since they're a healthy alternative to the snacks, you may have in your kitchen.
All there is to do is melt the butter, add the seasonings and flavorings, toss in the nuts, and mix together. Then, roast them on a cookie sheet in a single layer for about 10 minutes, and there you have it! A tasty snack or a delicious substitution for croutons in your favorite salad. And what about adding them to a casserole or vegetable dish? That'll work, too!
You can always add more Cajun seasoning if there isn't enough heat to suit you after these pecans are roasted.
You do what you gotta do!
And If you are not in the mood for spicy foods, try this classic recipe for Buttery-Salted Roasted Pecans. A delicious, healthy treat! I try to keep them in our pantry all the time.
More Recipes From Louisiana Woman!
Print
Recipe
Cajun Roasted Pecans
These spicy, crispy roasted pecans are great for snacking and in dishes such as salads and casseroles.
Total Time:

20 minutes

Yield:

2 cups

1

x
Instructions
Preheat oven to 350 degrees.
Line a cookie sheet with parchment paper.
Stir all ingredients, except for pecans, together in a large bowl.
Toss the pecans into the bowl stirring several times with the seasoning and butter until nuts are covered.
Place nuts on the lined cookie sheet and in a single layer.
Roast for 5 minutes, then turn pecans over with long handled tongs and roast for 3-5 more minutes.
Remove from the oven and allow the nuts to cool completely before storing in an airtight container.
Notes
More seasoning may be added after nuts are roasted to suit your taste.
Since every oven is different, keep an eye on pecans as they roast not to scortch them.  
Double or triple the recipe to share with others or store for later.
Author:

Prep Time:

10 minutes

Cook Time:

10 minutes

Category:

Snacks

Method:

Baking

Cuisine:

Cajun
Keywords: Roasted pecans, Cajun roasted pecans, roasted nuts
Recipe Card powered by
Be sure to sign up for my emails to keep in touch. If you have any questions or comments, leave them in the reply box below. You know I love hearing from you.
Have a nice day!
Tell me and I forget. Teach me and I remember. Involve me and I learn.

Benjamin Franklin