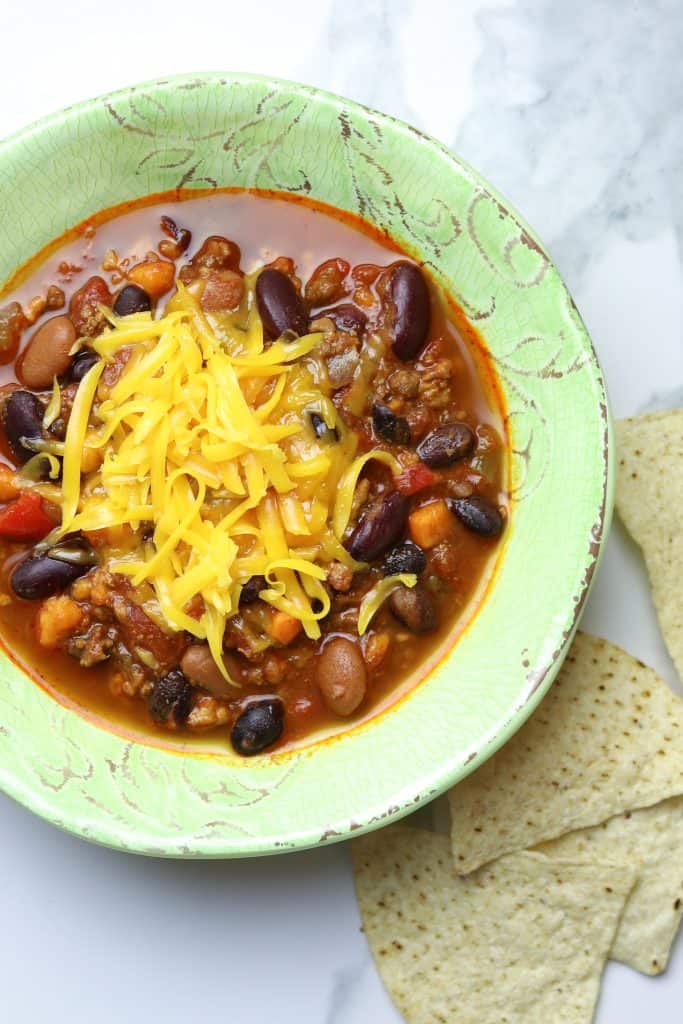 There's a sweetness that compliments the spices in this 3 Bean Sweet-Heat Chili and what better way to get these flavors all married together than in the Instant Pot!
Please note that there are Affiliate Links in the content of Louisiana Woman Blog, and I will earn a commission if you purchase through those links. As an Amazon Associate, I earn from qualifying purchases. I have used these products that are highlighted below, and recommend them for your convenience. Thank you!
I so enjoy a hot steamy bowl of chunky chili on a cold, wet day or any day as a matter of fact. Especially if it's got black beans in it! This chili doesn't disappoint. It even goes a step further with a touch of sweet-heat and an added bonus of 3 different kinds of beans. What's not to love?
The sweetness in this chili comes from chunks of red bell pepper, sweet potato, stewed tomatoes, and a good shot of rich chocolate syrup. Yes, that's right, chocolate syrup! I was introduced to this surprising little ingredient from a friend while making chili in my kitchen one day. I learned how the sweet chocolate syrup takes the sharpness out of the tomatoes and enhances the spices even more.
So plug in your Instant Pot . . .
or set your favorite chili-cooking pot on the stove.
If using the Instant Pot, press the simmer button to brown some ground pork and beef together along with onions, celery, and peppers. When cooking on the stove, brown these ingredients and follow the rest of the instructions to simmer slowly until you get that delicious sweet-heat chili taste.
Continuing in the IP . . .
when almost browned, add garlic, seasonings, diced sweet potatoes, and stewed tomatoes, chopping the tomatoes into smaller pieces. I use the end of a spoon or a meat chopper like this one from Pampered Chef.
The last step before setting the instant pot on high for thirty minutes, or covering the pot on the stove to simmer slowly, is adding water, the chocolate syrup, and these beautiful beans.
Print
Recipe
3 Bean Sweet-Heat Chili
A quick and easy spicy instant pot or stove top chili with 3 beans and a few sweet and surprising ingredients! 
Total Time:

1 hour 10 minutes

Yield:

10 cups

1

x
1 pound ground chuck beef or venison
1 pound ground pork
1 cup chopped onion
⅔ cup chopped celery
½ cup chopped red bell pepper
1 cup peeled and diced sweet potato
4 garlic cloves, pressed
4 tablespoons chili powder
2 tablespoons Taco seasoning
1 ¼ teaspoons sea salt
⅛ teaspoon cayenne pepper, or more
4 14.5-ounce cans sliced stewed tomatoes
1 cup water
1 ½ tablespoons chocolate syrup
1 15-ounce can black beans
1 16-ounce can dark kidney beans
1 16-ounce can pinto beans
Instructions
Instant Pot
Turn on the Instant Pot to simmer and brown the ground meats with the onions, celery, and red pepper until the meat is pink and not thoroughly browned.
Then add the sweet potaotes, garlic, seasonings, and the tomatoes, breaking the tomatoes up into small pieces with the end of a spoon..
Add the rest of the ingredients stirring well to combine.
Seal the lid and press the chili setting button to cook for 30 minutes on high.
After the pot signals that the cooking is over, let the pot release the pressure naturally or wait 10 minutes and release pressure manually. 
Serve with favorite condiments and side dishes.
Stove-Top
Brown meats with onions, celery, and pepper in a large pot.
Add sweet potaotes, garlic, seasonings, and tomatoes, chopping up tomatoes with the end of a spoon.
Add the rest of the ingredients and simmer for at least an hour on low.
Serve with favorite condiments and side dishes.
Author:

Prep Time:

20 minutes

Cook Time:

50 minutes

Category:

Main Dish

Method:

Simmering/boiling

Cuisine:

American
Keywords: 3 bean sweet-heat chili
What to serve with this 3 Bean Sweet-Heat Chili?
There are so many sides and condiments that go well in or beside chili. This Iron Skillet Cornbread is one of them. It's easy and has that homemade taste you can't get from a boxed mix.
Let me know how you like this chili recipe and what's your favorite condiment to eat with it. I love hearing from you!
"The important thing is that your teammates have to know you're pulling for them and you really want them to be successful."

Kobe Bryant