If you ever pass by a Rouse's Supermarket, do yourself a favor and stop in for their Gentilly cake or cupcakes. A real treat! Here is a glary picture of some of their lovely creations. I dropped in for a visit to the Lafayette store last time I was home because I just had to see what all the fuss was about. The fuss about those delicious cakes and cupcakes.
Please note that there are Affiliate Links in the content of Louisiana Woman Blog, and I will earn a commission if you purchase through those links. As an Amazon Associate, I earn from qualifying purchases. I have used these products that are highlighted below, and recommend them for your convenience. Thank you!
Wished I had a better shot. There were several ladies behind this counter busy as bees. I hurriedly took a picture before I drew too much of their attention. After one of them asked nicely if they could help me I said, "Oh, no, thank you," and speedily drove my buggy away. (Stalker!) Anyway, aren't they beautiful? Just beautiful!!!
After strolling about the patisseries some more I quickly gave in to the temptation of the Gentilly cupcakes that my sister raved about. It was their beauty that lured me to them and sure enough, they tasted as good as they looked. Wished I had taken a photo before they were all gone, but here's their website www.rouses.com that shows their Gentilly cake. The cupcakes are just a mini version of them.

The Gateau Frais Cake
This Gateau (meaning, cake) Frais (meaning, fresh) was inspired by that Gentilly cake. They are a little lighter and have the flavor of vanilla instead of almond like Rouses' has. I recently baked it for a treasured friend who was visiting us on her birthday. She is very familiar with Rouses' Gentilly cake, but is not a fan of  the almond taste so that worked out very well! In fact her husband gave this cake it's name.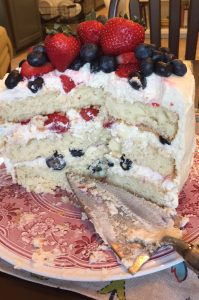 The Tulip Papers
Now, I live too far away from Rouses' to stop by and pick up some cupcakes every time I want one. So this is my attempt to satisfy that Gentilly craving. Before baking, I decided those cute little tulip cupcake holders would be great to help keep the fresh fruit on top. You know the ones like Joanna Gaines uses in her bakery at Magnolia Market Silos? Yeah, those are the ones. Not being able to find any nearby, I came across some clever gals on Pinterest who made their own so I gave it a try.
First I cut 6" square pieces of parchment paper and wrapped them around a small can of tomato paste then placed them into a muffin pan like this:
It didn't quite turn out like I wanted, but it's a start.
The Gateau Frais Cupcakes
The recipe for these little lovelies' batter is very easy. You can use a cake mix of your choice, but I urge you to make your own from scratch. It tastes better and is much more rewarding than baking from a box plus you know exactly what's in them.
After the cupcakes baked I cut a hole out of the center using a large pastry tip. I wanted to get as much icing in and on there as I could. I think Rouses does the same.
The frosting is made of cream and mascarpone cheese with some powdered sugar and a bit of vanilla bean paste. You can find this paste in the cake decorating section of stores or use regular vanilla extract. I stuffed them with frosting by using a pastry bag and tip, but you can use a butter knife or spatula.
Print
Gateau Frais Cake or Cupcakes
Inspired by the Gentilly cake from Rouses Supermarket these light and moist, vanilla cupcakes are stuffed and frosted with a Mascarpone cheese frosting and topped with fresh fruit. Beautiful and delicious!
Total Time:

15 minute

Yield:

2

-

9

" layers or

24 cup

cakes

1

x
Vanilla Cake
½ cup butter, softened
¼ cup shortening
1 ¼ cup granulated sugar
2 ¼ cups all-purpose flour
1 tablespoon baking powder
¾ teaspooon salt
1 cup milk
1 ½ teaspoon vanilla bean paste or vanilla extract
5 egg whites
Mascarpone Frosting
12 ounces Mascarpone cheese, at room temperature
1 ½ cups whipping cream
⅓ cup powdered sugar
1 tablespoon vanilla bean paste or vanilla extract
Fresh fruit for Garnish
Any of your choice. Berries work well.
Instructions
For Cake:
Prepare 2 - 9"cake pans or 24 cupcakes for batter. Cream together butter, shortening and sugar in a large bowl for 3 minutes. Sift together flour, baking powder and salt in a separate bowl. Add dry ingredients and milk alternately into creamed mixture mixing until well blended. Stir in vanilla. In a separate bowl beat egg whites until stiff peaks form. Fold into cake batter. Pour batter into desired cake pans or cupcake holders. Bake at 350 degrees for 20-25 minutes for cake or 15-20 minutes for cupcakes. Remove from oven as soon as batter is set and an inserted toothpick comes out clean. You don't want to over bake this cake. Frost cake layers and top with fruit before adding next layer. Frost outside of layered cake and top with whole, fresh fruit to garnish. For cupcakes, make a hole with a decorating tip in the center and pipe cupcake with Mascarpone Frosting from the inside out. Pile the frosting high and top with fresh fruit of your choice.
For Frosting:
Mix together in a large bowl Mascarpone cheese, powdered sugar and vanilla together. In a separate bowl beat whipping cream until stiff peaks form. Fold cream into Mascarpone mixture until well incorporated. Frost cake or cupcakes.
Notes
You can be as creative with this cake or cupcakes as you want. It's not only delicious, but appetizing to the eye.
Author:

Prep Time:

30 minutes

Cook Time:

15-25 minutes

Category:

sweets, desserts

Cuisine:

American
"What draws people to be friends is that they see the same truth. They share it."  C.S. Lewis