When discussing my mother-in-law's tea cake recipe with my mama, she told me of tea cakes they used to make using a sweet pie dough recipe. I so enjoy a good tart made with sweet pie dough! All they did was take the left over dough after making the tarts or pies, roll it out, cut it with the top of a glass jar and bake the tea cakes in the oven. They called it a dry cookie or a 'Tit Gateau Sec (meaning a little dry cake). Very much like a traditional tea cake. I remember being served these at a church function with homemade root beer. If you've never had homemade root beer you are missing something special. Just ask my children. So I got busy in the kitchen and this is the simple recipe that came about with Mama's help:
'Tit Gateau Sec (Little Dry Cake)
4 cups all-purpose flour
1/2 teaspoon salt
4 teaspoons baking powder
1/2 teaspoon nutmeg
1 cup sugar
1 cup shortening
2 eggs
1 tablespoon vanilla 
2 tablespoons milk
Sift together dry ingredients in a large bowl. In mixing bowl cream sugar, shortening, eggs, vanilla and milk together then add dry ingredients mixing in a little at a time.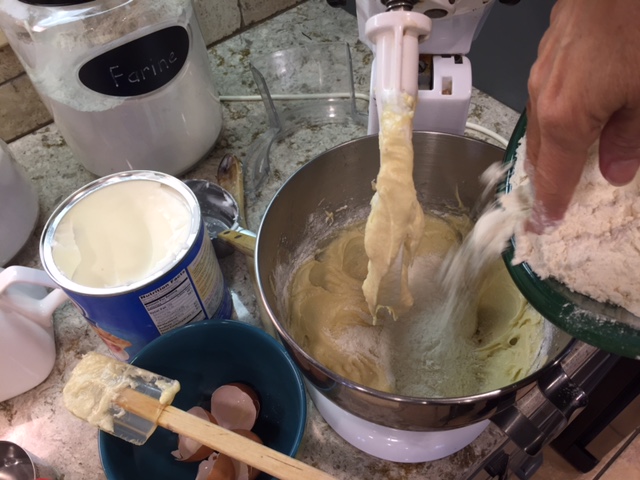 No need to roll them out and cut into rounds, just roll the dough by hand into small balls about 1-1/2 to 2 inches and press with your hand to flatten after placing them onto an ungreased or parchment paper lined cookie sheet.
Bake at 350 degrees for 12-14 minutes. Makes about 3 to 3-1/2 dozen.
Even though they are called a dry cake or cookie they really are soft and moist. So lightly sweet and tasty! You can't eat just one!
"Remember, 'No one's more important than people'! In other words, friendship is the most important thing–not career or housework, or one's fatigue–and it needs to be tended and nurtured."  Julia Child