It was easy to get up early on those Saturday mornings when Mama and Ma Ma were taking us shopping in Lafayette, especially if we were going to eat at The Piccadilly Cafeteria. The food was so appetizing. It was hard to say no to those sweet ladies who were always asking, "Serve You?," before passing us plates of food. Of course we'd load our trays with more than we could eat.
In the eighties there was a recipe floating around that was very much like the Piccadilly's famous Pecan Delight pie. I had a copy, but after many moves I can't seem to find that recipe so I searched the internet. Finding the numerous renditions of the pecan pie was a surprise and after several tries of pies here's how I made it with a little lagniappe or something extra. I call it Pecan Pie Plaisir (pronounced play zeer). Plaisir means delight or to take pleasure, and this pie surely gives me pleasure. Hope it does you, too!
The Pecan Pie Crust
In Stephanie Manley's blog, copykat.com, she toasts the nuts and crackers in the oven for her Pecan Delight pie crust recipe. A smart way to keep the crust crisp.
I made this pie with and without toasting these ingredients. The results are better when they are toasted. Just be sure they are cooled completely before adding them to the beaten egg whites.
Dark chocolate added to the baked crust is the lagniappe that is not in the original Piccadilly pecan pie recipe, but it should be. The thin layer is just enough chocolate to taste and easy to cut through.
I filled the pie with real cream instead of whipped topping. To me, there is no comparison. Real is always better.
The last step is topping with chopped pecans.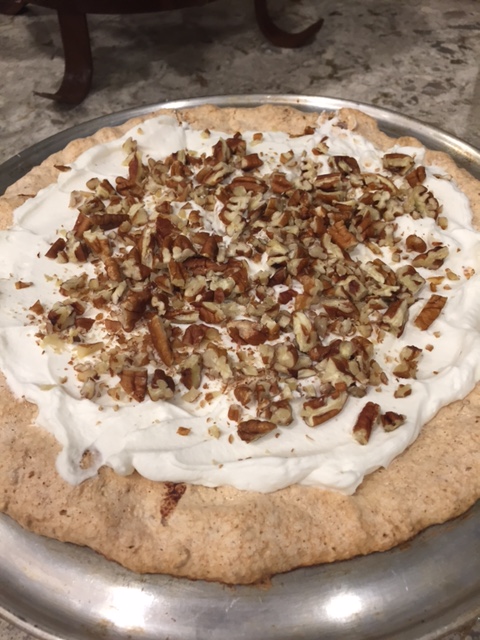 Here's the easy recipe:
Print
Pecan Pie Plaisir
A pleasing cream and pecan pie that has a cracker, pecan crust and thin layer of dark chocolate similar to the Piccadilly Cafeteria's Pecan Delight pie.
Ingredients
Pecan Pie Plaisir
2/3 cup pecans, chopped small

20 buttery crackers, crushed, about a cup (I use Ritz)

3 egg whites, room temperature

1/4 teaspoon cream of tartar

3/4 cup sugar

1/2 teaspoon vanilla

1/4 cup dark chocolate chips (the lagniappe)

1 1/2 cups cream

3 tablespoons sugar

1 teaspoon vanilla

1/3 cup pecans, chopped roughly
Instructions
Preheat oven to 350 degrees. Grease pie plate well.
Place pecans and cracker crumbs on a cookie sheet lined with parchment paper. Toast in oven for 10 minutes.Carefully take the parchment with nuts and crackers off of hot pan and onto your counter to allow to cool for 15 minutes.
Beat egg whites and cream of tartar until stiff peaks form, then slowly mix in 3/4 cup sugar and 1/2 teaspoon vanilla until well incorporated. Following these steps correctly insures a better meringue for the crust, especially if the egg whites are at room temperature. Fold in pecans and cracker crumbs into meringue carefully not to deflate the egg whites. Pour mixture into greased pie plate spreading batter up the sides of the pan. Bake for 25 minutes. Remove from oven and cool on a rack for 15 minutes.
Take chocolate chips and place in a small plastic freezer bag. Microwave for 15 seconds at a time or until chips are melted. With scissors cut the bottom corner of the bag and dispense chocolate on top of the baked pie shell. Spread chocolate evenly on the shell with a knife or small spatula. Place in the refrigerator and chill thoroughly.
Now, most of the Pecan Delight recipes called for whipped topping, but I prefer the real stuff, always! For best results in making whipped cream, freeze bowl and beater for 15 minutes then pour cream into the cold bowl, add 3 tablespoons sugar and vanilla and whip until medium peaks form. Don't over beat. Pour cream over chilled pie and top with remaining 1/3 cup of pecans. Keep refrigerated until ready to serve and enjoy!
"Cut my pie into four pieces, I don't think I could eat eight."  Yogi Berra